Coffee Roast Color Measurement Agtron Index Color Meter Colorimeter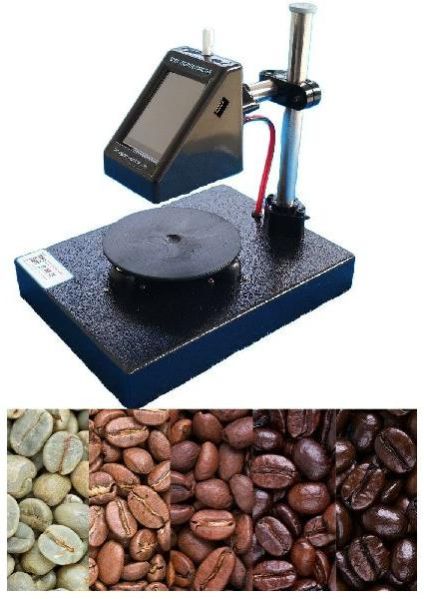 Price :
USD 400.00
/ Piece
MOQ : 10 Piece
Business Type
Manufacturer, Exporter
Warranty
1 Year
Package dimensions (cm)
30 x 22 x 10
Package weight
2 Kg
Click to view more
Product Details
Software
SensegoodSmart computer interface utility
Software utilization
Record keeping, reference color retrieving, find color difference
Working Temperature Range
0℃-40℃(32℉-104℉)
Storage Temperature Range
-20℃-50℃(-4℉-122℉)
Humidity Range
0% to 85% (non-condensing)
Operating principle
Reflection visible spectrophotometry
Sensor
Multi-spectral sensor array
Spectral Range
400-700 nm
Inter measurement agreement
△E<0.2
Measurement duration
<0.5 second
Color space
SCAA Agtron coffee roast index, CIELab, HunterLab, CIELCH
Simulated illuminants
A,C,D65,D50,D55,D75
Instrument standard
International Commission on Illumination CIE
Country/Region of Manufacture
India
Simulated Observers
2°,10°
Other color attributes
Spectral graph, Peak wavelength, CCT color temperature, XYZ, Yxy
Color difference
DE*Lab,DL*,Da*,Db*,Color Match%
Ensure your product's color consistency
Color tolerance, Color difference, Color matching
Warm up time
Not required - Quick start
Meter type
Spectrophotometer Colorimeter Whiteness meter
Color measurement method
Supports Contact & non contact color measurements
Large contact measurement probing area
28 mm
Type
Food Colorimeter Food Color Measurement
Illumination source
98+ CRI true color full spectrum LEDs
Illumination source life
>10 yrs, much long life than any other bulb
Achievable configurations
Benchtop, Handheld, Inline operations
MPN
sensegood spectrophotometer colorimeter
Production mode
Yes: Auto repeat measurement & color Match%
Sample type
Solid, liquid, powder, paste/ slurry
After Large Contact Measurement Probing Area
Large Non-contact Measurement Probing Area: 4inch Diameter Coffee Sample Tray
WORLD'S MOST AFFORDABLE - PATENTED TECHNOLOGY
WE ARE THE ONLY MANUFACTURER IN THE WORLD TO OFFER THIS TECHNOLOGY IN THIS PRICE
WORLDWIDE SUPPLY BY DHL EXPRESS
COLOR TFT TOUCH SCREEN WITH COFFEE ROAST INDEX LIBRARY – USB ENABLED INSTRUMENT
Instrument measures and displays Coffee roast index which is standardized by SCAA (Specialty Coffee Association of America) - Agtron number.
The instrument will also mention the type of roast; for example; city roast, full city roast, etc; along with the numerical value of agtron number
You can ensure the color consistency and hence the consistency in caffine and coffee flavour, standardization of your product
It works with solid, liquid, powder or paste; hence you can use it for coffee beans, coffee powder, chicory powder, coffee instant mix or even liquid coffee
You can set color tolerance and check for the color consistency, for example in coffee instant mix powder or in ingrediants
It does non-contact measurement; hence sample doesnot come in direct contact with the sensor: advantages: no damage/no scratches developed on the optical assembly of the sensor, hence long life in calibration, also no food contamination due to distance measurmeent
Rotating sample platform: Sample rotates and sensor with larger field of view takes multiple readings over multiple rotations, and gives accurate averaged reading
Sensegood Instruments offers a benchtop or table top yet portable color spectrophotometer.

The same instrument – visible vis spectrophotometer works as a full spectrum handheld portable digital colorimeter, photo colorimeter, photoelectric colorimeter, color meter, color spectrometer, color analyzer instrument, color difference meter, color matching machine, whiteness meter tester, or color spectrum measurement instrument in general that assists you in optimizing the color quality & consistency of your product.

This industrial and laboratory spectrophotometer instrument works on a principle of true color LED beam reflectance spectrophotometry; and it comes at a most affordable price.

The world is color. We understand exactly why the color is important for you. Achieving right color requires first measuring it accurately. Ensure color quality and consistency of your product using Sensegood Spectrophotometer.

Sensegood Colorimeter Spectrophotometer is thoughtfully developed considering all the facilities that you desire, to assist you in optimizing the color quality of your products. We have this "all in one" color measurement instrument for you regardless of what you want to measure.

Sensegood portable digital photo colorimeter – color spectrophotometer best in class features
World's only contact as well as non-contact color measurement instrument –  Patent Filed Proprietary Technology
World's one of the most affordable spectrophotometer with niche technology
One touch operation: Just press "GO" to measure

Features contd...
Fast, Hassle free, No warm up time required
Easy operating system – Color resistive touch TFT
Single screen compilation: All color computational data is kept at one place for ease of analysis: XYZ, Yxy, CIE L*a*b*, CIE L*C*ho, CIE L*u*v*, HunterLab, CCT – color temperature, peak wavelength
It can capture, evaluate and communicate the color of any sample; be it solid, liquid, powder or paste
Versatile: Same instrument can be configured to work as benchtop/table top, handheld/portable and online/in-process color measuring instrument
Settable color tolerance and Alarm (audible and visible) indications
Color difference measurement: Color matching instrument: Evaluates color match percentage between standard reference and production samples
Displays Match% value in green (Pass indication) if it is greater than the set Alarm Limit
Displays Match% value in red (Fail indication) and plays audible alarm if it is less than the set Alarm Limit
Indication of whether the sample is Lighter/Duller, Redder/Greener, and Yellower/Bluer than the reference
Reference color data can be saved in the memory for future color comparison with the sample
Graphical representation of spectra for 400nm to 700nm with 1nm resolution
Sensegood Spectrophotometer has rotating sample platform and a large field of view. This along with the averaging mode active; ensures best reproducibility in measurements even in non-uniform samples.
Auto repeat measurement mode. Along with this mode, establish color tolerances and evaluate color match percentage
Inbuilt library of color indices: Various whiteness indices (WI), Yellowness index (YI), Baking contrast unit (BCU), Tomato color index (TCI), Ripening index a*/b* and b*/a*, Citrus color index (CCI), Citrus number (CN), Citrus red index (CR), SCAA Agtron number – coffee roast color index
No field maintenance costs: Scratch proof sensor optical assembly.
Compact in design and comparatively light in weight
Read More...
Looking for "
Coffee Roast Color Measurement Agtron Index Color Meter Colorimeter

" ?
Piece